Traditional & Modern Kitchen Design Experts
Affordable Fitted Kitchens in Cardiff
Looking for luxury fitted kitchens in Cardiff? …Welcome to Royal Kitchen Designs, local experts in the design and supply of high-quality fitted kitchens personally designed around you and what you want and need for your home.  At Royal Kitchen Designs our kitchen showroom is located in Caerphilly, 7 miles North of Cardiff, but our services cover the whole of Wales and England. We can take care of all your kitchen renovation needs from furniture to flooring, to worktops and appliances, proving a convenient, reliable and affordable choice. We are also specialist worktop suppliers, with a well-established reputation for bringing affordable luxury to every home.
Expert Fitted Kitchen Designers in Cardiff
Call into our luxury Caerphilly kitchen showroom to talk to our friendly team and you will quickly recognise the importance we place on creating a kitchen that is exactly right for each of our customers.  In this respect, we can offer expert advice, ideas and solutions, whilst guiding you through our myriad of choices to achieve a kitchen with the look you want, the functionality you need, and within the budget you have available to spend.  Alternatively, you are welcome to bring any existing quote you have already received and our Cardiff fitted kitchen experts are confident we can beat it.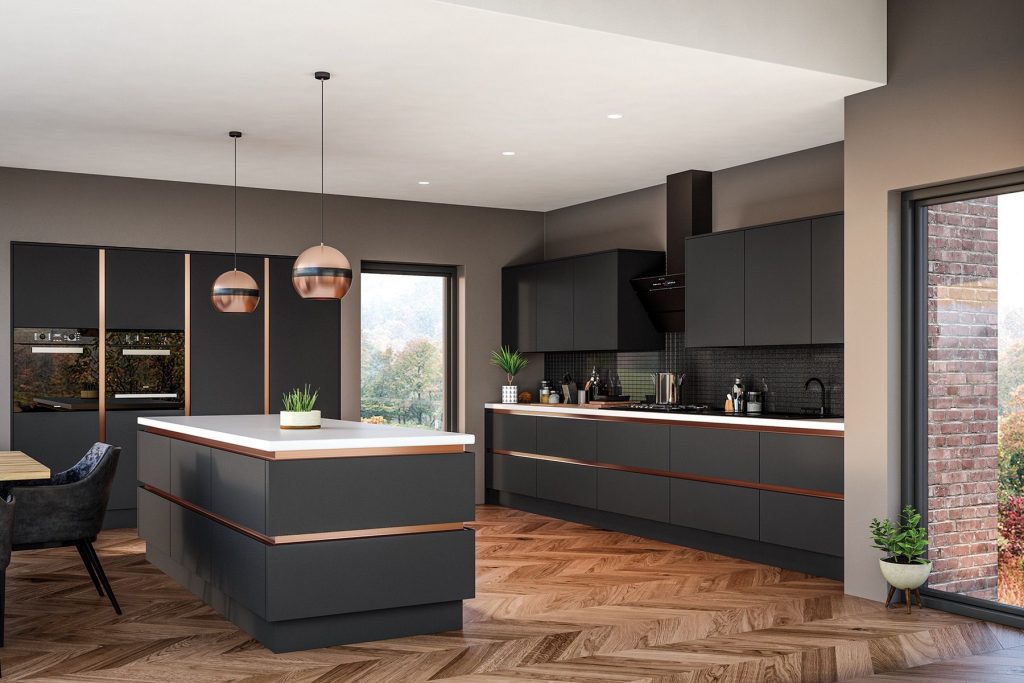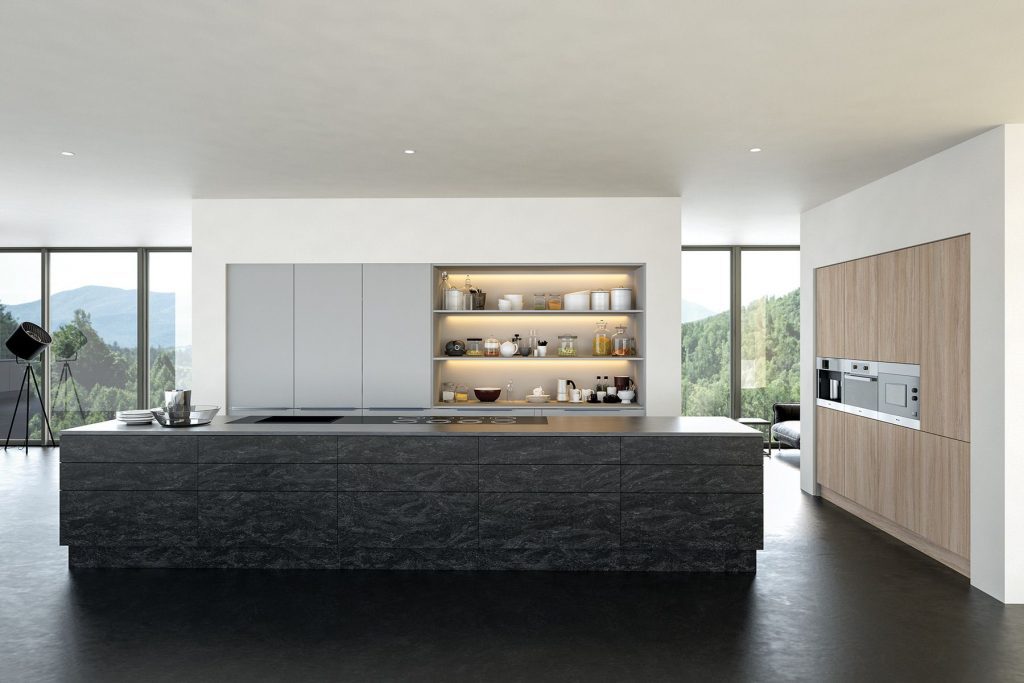 Are British Or German Kitchens Best?
When it comes to kitchen choice, at Royal Kitchen Designs in Cardiff we originally considered supplying well-known German kitchen brands but having been thorough in our research we came to the conclusion that in reality, they are too expensive for what they are. Instead, and with the goal of making luxury affordable for people, we chose to partner with a quality British kitchen brand called Blossom Avenue.
British kitchens are known for their high-quality manufacturing processes, resulting in strong, durable and long-lasting kitchen designs. They are also widely renowned for their traditional in-frame and shaker kitchen offerings, knowing the finer details necessary to truly finesse these kitchen styles better than any European manufacturer.
Choose a British kitchen and you will also benefit from shorter lead times compared with most European brands. For our fitted kitchens in Cardiff, this typically means lead times of just 20 days; So especially if you need a great quality kitchen in a hurry, you should definitely be talking to our expert team! 
Blossom Avenue Kitchen Benefits part of BA Components
As mentioned, Blossom Avenue Kitchens are a mid to high-end British manufacturer of high-quality fitted kitchens. Aside from its innovative design and quality engineering, Blossom Avenue stand out from the crowd for its exceptional level of choice, which is the biggest in the country.  With Blossom Avenue, there is a door and finish for everyone ranging from traditional English kitchens, Shaker, to modern and contemporary kitchen styles such as handleless, wood, matt, stone and ceramic.  In fact, we can even offer 3 different types of gloss kitchen finish!  
 
Adopting a flexible approach, our Cardiff fitted kitchen experts can mix and match colours across different ranges, and we can also offer many bespoke kitchen products such as pantries and oven houses. Finally, our accessories range includes a wide variety of handles to choose from in different colours and styles, and in statement metals such as brushed steel or even luxurious gold!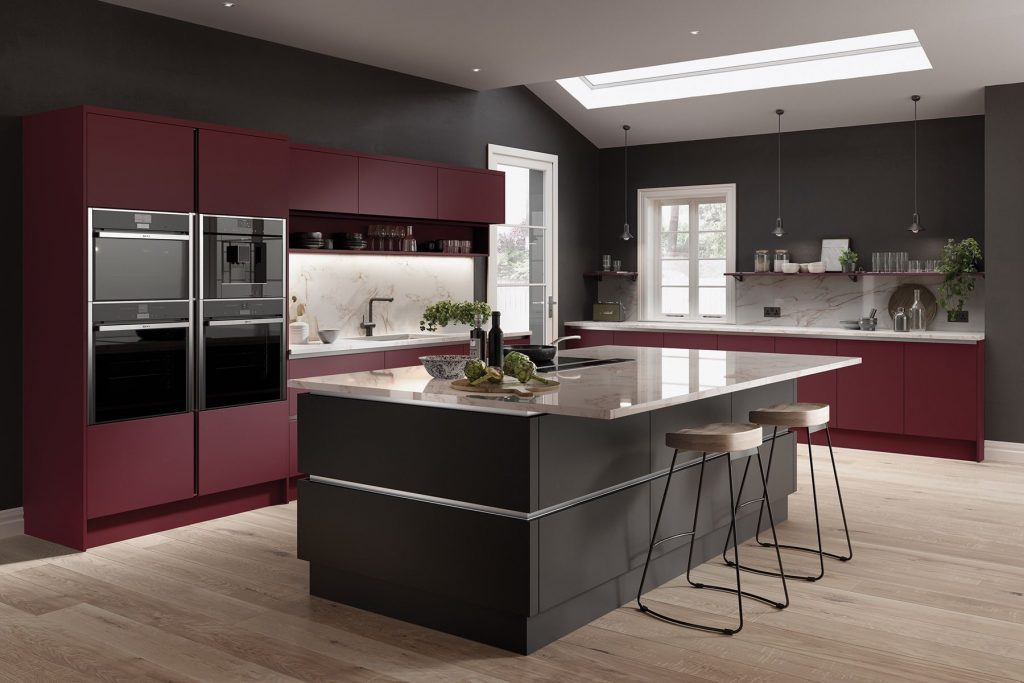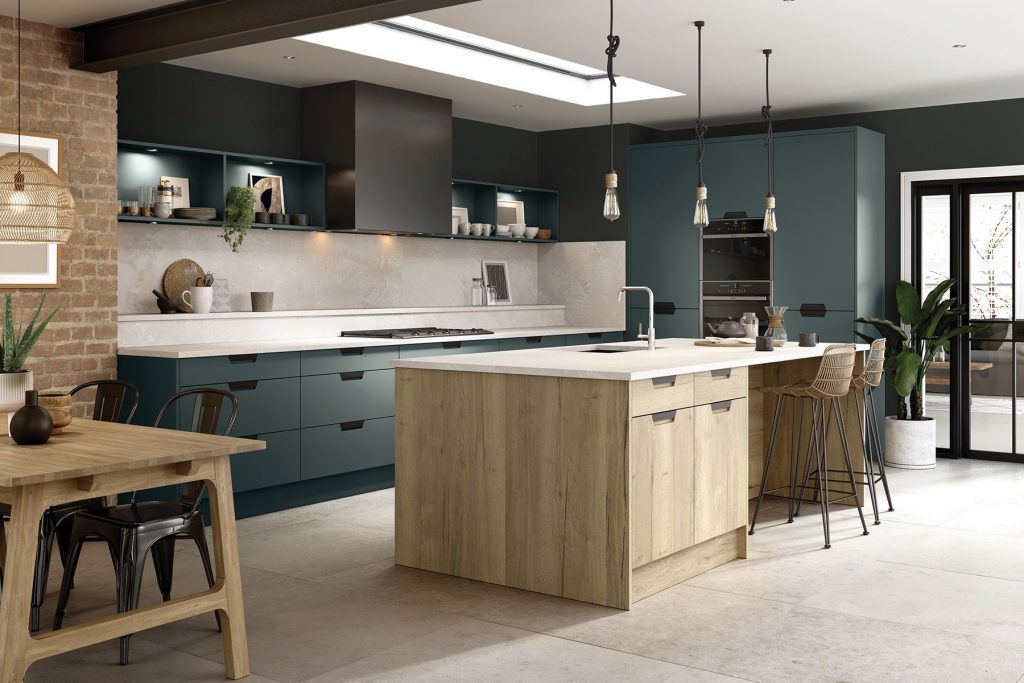 Unbeatable Prices For Quality Kitchen Worktops
Our sister company Royal Marble are conveniently located within the same site as our kitchen showroom in Caerphilly, and many clients come to us after first visiting larger, well-known kitchen furniture stores and finding the worktops offered there are simply too expensive.  Through visiting us, customers find we have worktops to suit any taste, design requirement and budget- an experience which typically makes the kitchen you want more affordable too.   
Cardiff's Kitchen Worktop Specialists
As a specialist kitchen worktop supplier, we also have more choice of materials, with 15 suppliers to choose from compared with our biggest competitors who have only 2 suppliers, and whose Dekton and Silestone worktop brands we also supply as well. With both kitchens and worktops on-site in our showroom we offer a convenient and easy means for choosing door and worktop samples, enabling you to try out different material combinations as you decide which is right for you.
We supply very affordable worktop finishes, but equally, we supply premium products as well, ensuring no matter the scale or calibre of your project, we know we have something that will work for you.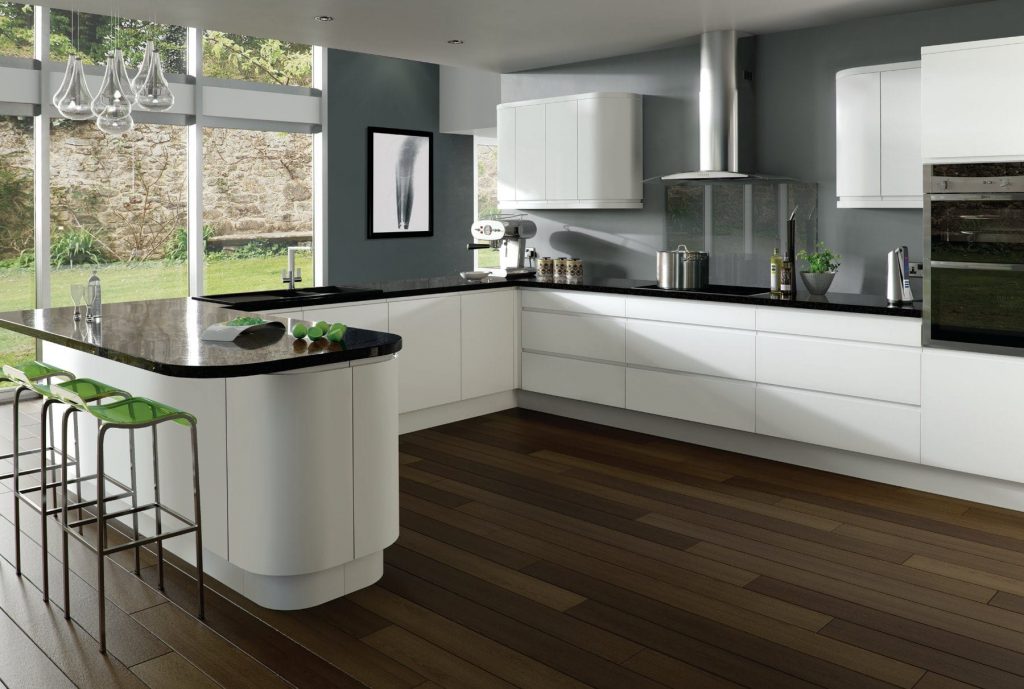 Caerphilly Kitchen Showroom
At Royal Kitchen Designs in Cardiff we know there's nothing like seeing and touching a product to give a sense of how it's built and what it can do. As such, we welcome you into our Caerphilly kitchen showroom where you can fully explore our range of German kitchen furniture, worktops, and appliances.
Opening Hours
Monday – Friday: 9am – 5pm
Saturday & Sunday: 9am – 3pm
Royal Kitchen Designs Service Areas
Caerphilly Kitchen Showroom Amenities
You can find our Caerphilly kitchen showroom on Pantglas Farm Industrial Estate. Please turn off the main road (the A468) into the industrial estate on your right, then after approx. 150m turn left. Travel 100m until you come through a gate (which is always open) and if you veer to the left you will find us. Our Caerphilly kitchen showroom is well signposted, and on arrival, we have free car parking on site. We are also a family-friendly showroom and easily accessible for both prams and wheelchairs. Please book ahead for our free kitchen design service or else call in for a browse and to ask any questions; Our team of kitchen experts are based on site and will be ready to welcome you with a smile and a fresh cup of tea or coffee.
Discover Our Range Of Styles